Depending on the size of your family, a half a beef or whole or half a pig could last you a whole year! It's such a peace of mind having healthy beef or pork right within reach for any weeknight meal!
*Reserve whatever size share of meat that you want here on our website order form after reading through the information below.
Information specific to buying half a beef:
The beef is dry aged two weeks for maximum flavor and tenderness. It is then cut
and packaged according the specifications you will choose on your cut sheet.
Our custom cut sheet is on the website. It explains all of the options, in easy language, demystifying the "what" and "how" of beef cuts.
When you order a large share, you are responsible for picking it up from the butcher directly (within their business working hours M-F), or for a delivery fee, we can bring your share to you.
Information specific to buying a whole or half a pig:
The butcher offers many options on their cut sheet. We have written our own to try and simplify the language and options somewhat. Keep in mind that all the extra flavorings or specialty items you order for your pork will take longer for the processor and add to your butcher bill. We suggest not smoking or preserving too much of your meat, so that you will not have preservatives in your meat, or the extra cost and wait time for doing so. You, of course, may choose to do that if you wish anyway. We just want you to be aware of the options and what they mean. As with the beef, if you order a large share of pork, you are responsible for picking it up from the butcher directly (within their business working hours M-F), or for a delivery fee, we can bring your share to you.
Step 1: Preparing for your beef or pork share
Freezer: Your beef may be between the ranges of 150-200 lbs of take-home meat. A half a pig may be approx. 90 lbs, a whole pig 180 lbs or less of take-home meat. Make sure you have a freezer capacity that will hold all of it! The size chest freezer or upright of 7 cu.ft will usually suffice for a half a beef. Bones are bulky and could take up extra space, so consider that. You may want larger than a 7 cu. ft. freezer if you can find one so that you can store more than just your beef if you desire. We often find them used on online yard sale sites on Facebook or Craigslist.
.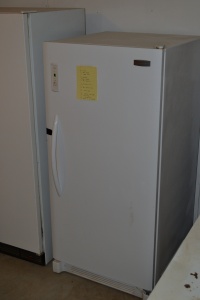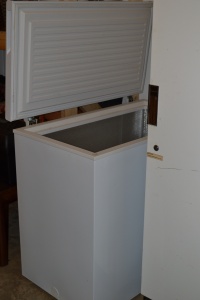 On the right: A small 7 cu. ft. chest freezer. On the left: Two upright freezers, the
taller is 16 cu. ft., the smaller is 13.8 cu.ft.
Coolers: When you pick up your meat, bring at least 200 qts. of coolers or sturdy
bags to tote your meat home (for beef, less for pork). It will be frozen when you pick it up.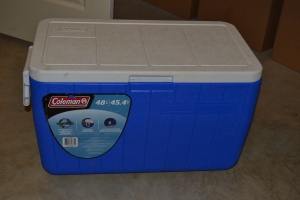 Bring 4 of these blue 48 qt. coolers, or 2 100 qt. coolers. Or bring plenty of sturdy cloth grocery bags or cooler bags. You may also just use laundry baskets or boxes to tote it home in if you don't have far to drive.
Cost: We charge you by the hanging weight. That is fancy butcher language for the beef after it has been eviscerated and is hanging "on the rail", aging. Pork is also sold by hanging weight, but not aged as long. It still has bones and other parts still attached. After it has aged, it is cut up according to your specifications. The total amount of pounds you take home will be less than the hanging weight.
We guess how much our beef and pigs are live weight when we bring them, but can't give you a concrete hanging weight until the butcher lets us know. We'll then be able to come up with your total cost.
Just figure on a total average of $1100-1400 for the total cost of your beef.
A total average for a half a pig is $475 (which can vary depending on how many extras you have them process). A total average for a whole pig is $870 (and again can vary based on how you fill out your cut sheet).
Step 2: Learn about the cuts of beef and pork
Open and save or print out this handy chart that explains all of the primal cuts of meat and has pictures to remind you of what they look like. Our butcher does not offer all of the cuts listed on this sheet (I think that would be too overwhelming anyway!), it is only for educational purposes. Study this sheet a bit to familiarize yourself with the beef primal cuts and pork cuts and use it when filling out our custom cut sheet.
Link to chart for beef cuts: http://www.businessinsider.com/beef-cuts-chart-2014-10
Link to chart for pork cuts: https://www.thespruceeats.com/pig-diagram-and-pork-chart-995306
Step 3: Fill out your cut sheet
We have made this cut sheet easy to understand. The chart on our online order form and Timothy's notes throughout the cut sheet should help you when choosing which cuts you'd like from the various sections of the beef or pig. Use the charts above to also help remind you what some of these cuts look like. Below is the link to where you can find all of our cut sheets. You can pick whichever one you need and then please fill this out as soon as possible. Just hit "submit" on the order form, no need to print and mail it.
Link: Cut Sheets
Step 4: Your payment
After filling out the cut sheet, please send us a deposit of $250 for half a beef, or $100 deposit if ordering a half or whole pig and mail it to us. We will email you our mailing address. You may pay us the remainder of what you owe for the animal when you pick up your meat or we deliver.
Step 5: Pick up or delivery
We will contact you as soon as the butcher lets us know the ETA for your particular beef or pig. We will do our best to arrange our schedules to meet you at the butcher during their open days of Monday-Friday 9-5 pm to help you load your meat, receive your payment, and meet you in person! If you choose the delivery option, that is an additional charge and we will set that up with you. We would want to make it same day delivery after we pick up your meat from the butcher. You will have to be home to receive it week days during the daytime hours. We will coordinate our schedules as soon as we know a possible date when it's ready.
*Reserve whatever share of meat you'd like by using our online order form. Then refer back to the steps above to prepare for your large share.