Welcome To Our Farm!
We're Timothy and Julie Beahm and our family of seven seeks to work together living, learning, farming, and providing Grassfed Beef and Pork to Virginia families.
We farm in the beautiful mountains of Rappahannock County. The best food starts with the best farming practices. We desire to honor the Creator, the animals, and the land by the way we raise them.
Our beef are 100% grassfed and finished and our pigs live happy lives on pasture. We offer convenient meat share sizes with competitive pricing from our holistically raised animals, free of antibiotics, pesticides, and hormones.
If you are looking to take steps towards good health by eating pastured meats and buying local, then read on!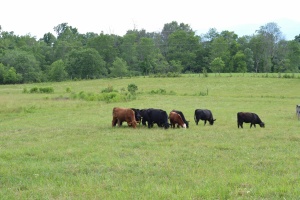 Our beef are raised and finished on grass entirely. No grain ever.
We don't use antibiotics, hormones, or pesticides on them.
Our beef has rich flavor and is naturally leaner.
We improve the land by rotating our grazing and giving our beef optimal forage for their healthy diet.
Our beef are carefully raised and gently treated.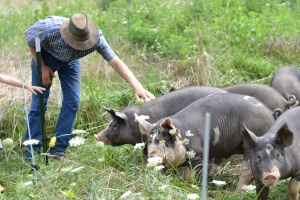 Our pigs live a happy life rooting in the pasture and woods.
They are never treated with antibiotics or pesticides.
They are omnivores and love eating all kinds of forage and bugs.
Their meat is nitrite, nitrate, and preservative free.
Because of pigs natural rooting tendacies and turning over the soil, they improve the land by regenerating growth.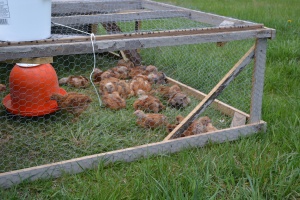 We raise our meat chickens on pasture, under a shelter, protected from predators.
Their diet is supplemented with non-GMO feed.
We never use hormones or antibiotics on our birds.
They have freedom to move around and live on pasture.
We offer whole chickens for sale seasonally, in the summer.
We love our meat from the Beahm Farm, especially knowing where it came from and that we can trust we are eating healthy, So glad we found The Beahm family!
-Terri
"The reason I reached out to you was because your site seemed organized, the ordering process looked simple enough, everything was clear …and all your links worked!"
-Kirkley
"They offer a variety of beef and pork buying options. Loving their delicious beef sampler that we bought recently and their farming practices!"
-Roda
"The quality of their beef is amazing! Can't wait for my pork order. Julie responds to any questions or messages in a timely manner. They are such a lovely family."
-Rosario
Meat Options
Choose the best size share for your family's needs
We have multiple options for both grassfed beef and pork for Virginia families that can meet your needs and help bring healthy meals again to the table. Custom cut large order meat shares of beef and pork are the most economical and can last some families a whole year. We offer 30, 60, and 90 lb. shares of beef or pork as well. The small 30 lb shares can easily fit in most refrigerator freezers.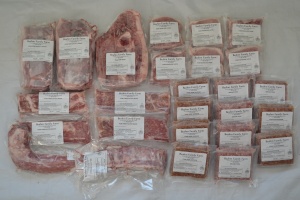 "We got the beef package, excellent price and excellent beef. It feels good to know where what we eat comes from, and that the cattle are well treated. We are eating healthier and buying from a farm is a big part of it!"
-Marti
"Best meat we've ever had. Wonderful communication. Thanks so much."
-Anne
"We enjoyed the pork sampler so much we ordered a half hog and 60lbs of beef. What a great feeling to know where our food comes from and to be able to trust Timothy and Julie to raise it right!"
-Becky
"Beahm Family Farm is doing a great job of being committed to healthy living!"
-Bobbi
Meat FAQs
Vacuum sealed packages
USDA inspected meat
Shares contain a proportionate sampling of entire animal (beef or pig)
You'll receive a variety of cuts in the shares (for example: roasts, steaks and ground meat for beef shares; chops, sausage, uncured bacon, roasts, ribs and other cuts for pig shares)
We sell meat at certain times of the year following the peak grass season- We keep an availability list updated on our newsletter emails and pricing page on our website; reserving meat ahead is strongly suggested
We have easy step-by-step instructions for ordering your year's supply of meat with custom cut large shares of beef or pork.
Most customers make an appointment to pick up their meat shares at the farm, but we do offer delivery to some areas.
"Just ate the best bacon I have ever had in my life, thanks Timothy and Julie…the best." -Carol D.
What truly matters
Where we get our food is important to our family.
Many people have come to us for meat for various reasons:
-Starting on their health journey. They need clean food (by that we mean free of hormones, antibiotics, preservatives, and chemicals.)
-Ethical reasons. They like to know that the animals are raised in a natural environment that is best for them.
-The local connection. Some people just really want to get their food from an actual, real person that they can talk to, ask questions, get cooking advice- all the advantages that you don't get with the big companies selling food at the grocery store.
Your health goals accomplished
Most of us have some goals in mind for better health. You may have heard that grassfed beef is higher in omega 3's, or that pastured pork is more flavorful due to their varied diet without all the added preservatives and junk in the finished meat. You may be trying to eat healthier and desire to have a cleaner food source coming into your home. We get that! That's why we love doing what we do, even on all the hard days when we take care of animals in the rain, wind, snow, and dead heat of summer!
We believe so strongly that the key to better health should begin with the very fuel we are feeding our bodies. Even though we are grateful for medical intervention and medicines when needed, it's crucial to begin working from the inside out to help start on the path to a healthier you.
Read more about our farming practices and the meat shares we offer, and let us help you get started on a healthier path today!