Half a Pig Cut Sheet
We'll walk you step-by-step through the process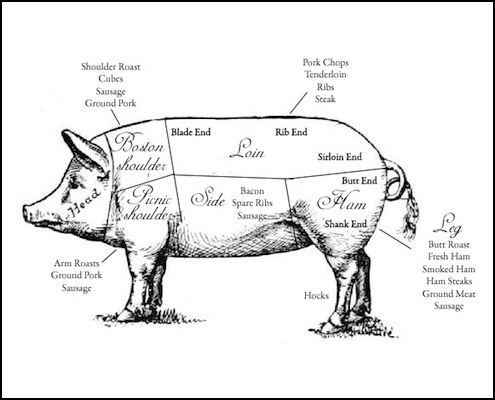 Below you will see our cut sheet for the half a pig share from our farm. Cut names and butchering practices can vary widely, but this form reflects what our particular butcher offers.
*If ordering a whole pig, please fill out and submit this form twice. On your second cut sheet, you can pick different options from your first cut sheet to receive more variety of cuts back, or it can mirror your first cut sheet.
1 cut sheet= half a pig.
Step 1: Look the at the chart and familiarize yourself with the basic names of the primal cuts.
Step 2: Keep in mind what your overall desires are for what you want out of your half a pig.
-WHAT TO EXPECT:
Everybody wants lots of sausage and bacon. That is not all you will get when you order a large pig share from us. You will be able to get all the cuts back from all sections of the pig that you desire. This will include options for ham, chops, shoulder roasts, along with plenty of sausage and side meat (or belly or bacon, it's called various names whether it's cured or not). From the delicious leaner cuts of loin to even the hocks and jowls, we'll walk through the options and give our advice for getting the most out of your carefully raised, pastured pig!
-CURING AND SMOKING:
When we write up cut sheets for selling our smaller shares, for the benefit of our health overall, we choose NOT to have anything cured or smoked. We like the fresh, uncured taste of the pork. If you choose to cure and smoke anything, there will be additional cost and wait time for processing. We include the butcher's options of regular curing (containing nitrites) and a curing option with a more natural form of preservative. You may choose your hams and side meat to be "fresh", like we do, and it will not be cured or smoked then.
-IMPORTANT INFORMATION ABOUT SAUSAGE:
Depending on the weight of your pig after processing, you may get back 10 or more lbs of sausage (for a half) comprised of the trimmings and leftovers. If you would like to have more sausage from your half/whole pig, consider grinding up some of the other cuts of meat. We recommend the grinding option for a rear ham and picnic shoulder roast IF you would like more sausage back with your share. A rear ham is typically 15-20 lbs, a shoulder is smaller.