Simplify Meal Prep with Batch Cooking Grassfed Ground Beef
By Julie
Here's a simple action tip you can most likely accomplish at some point this
week! When you are about to cook a meal including some ground grassfed beef, instead of
pulling out just 1 lb. of ground beef, pull out 4 to 6 lbs. Cook several pounds ahead and freeze some to use for future dinner recipes like: spaghetti sauce, tacos, casseroles, quick soups, and oh so much more! Season the meat as
you cook it (with italian seasoning, taco seasoning, or salt & pepper) or leave it plain
depending on what kind of meals you'll use if for in the future.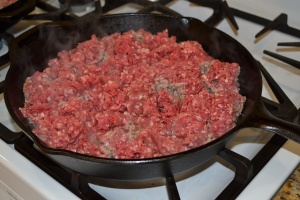 The method: After cooking all the meat in a big skillet, label quart or gallon size
ziploc freezer bags. Take a measuring cup and portion out 1 lb or 2 lb portions in the
bags. Lay them flat in the freezer to store (Laying them flat makes them quicker to
thaw for the future).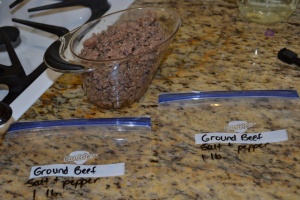 Here's some quick lunch and dinner ideas that you can use your cooked ground beef
for:
Pull out a bag of your already cooked meat to put on top of a salad for lunch or
dinner.
Make quesadillas, tacos, or burritos quickly.
Wrap the meat in a tortilla with cheese, lettuce, and tomato.
Make a quick soup by putting the meat in soup pot with stock, frozen veggies,
and seasonings.
Pack a to-go salad with beef.
Make a mini pizza by mixing beef and tomato sauce. Put the mixture on bread
with cheese and broil in the oven.
Happy cooking!