Easy Dinner Ideas Using Grassfed Beef
By Julie
My five children (ages 11 and under) and my husband love a good home-cooked meal. We try to prioritize eating together. Some meals are "quickies", sometimes the children help me with meal prep (think mess!), and on crazy nights we just pull out leftovers and call it good!
Here are a few simple meal ideas from our last few weeks of cooking around the house. These recipes and dinner ideas will work beautifully with our grassfed beef burger, steaks, and roasts that come in our various quantities that we offer!
Everybody probably has their favorite casserole meals that use beef, but I thought I would throw a few ideas out there of meals we like to make that don't take as much time as a casserole and that use whole foods!
We do love making special recipes and taking our time with some meals, but during our regular homeschool weeks, meal prep has to remain simple and short. The following are mainly meal ideas, not specific recipes- just meant to give a general idea of meals to make that are easy to tweak to your family's specific tastes.
-TACO NIGHT-
I've made this a quickie quick weeknight meal by always making sure I have plenty of spices on hand, grassfed ground beef in the freezer, some tortilla chips, lettuce, salsa, and sometimes sour cream or cheese (There are tons of other topping ideas, I just list a few here).
We just like to rotate how we enjoy the taco seasoned ground beef:
-Use soft or hard shell tacos with your taco meat.
-Put taco meat on a bed of lettuce with toppings.
-Put taco meat over rice or potatoes with lots of toppings!
I've simplified my routine by also just measuring to taste certain spices to fry up with our ground meat. I often use cumin, paprika, chili powder, onion powder, garlic powder, and salt and pepper. I sometimes (when I think to do it ahead of time!) premix all of these in a little jar and just shake it out on the beef while I fry it up. I often add water or tomato sauce for juicier meat.
This is a great recipe for making your own taco seasoning: Recipe
–CHILI-
-I love making a good chili! I often fry up grassfed ground beef, add it to a HUGE soup pot, then add lots of diced tomatoes, beans (I use white beans, what we prefer!) that I've previously cooked already and defrosted from the freezer, all the usual spices (chili powder, onion powder, paprika) some tomato sauce, frozen corn and water.
-I often serve chili with either cornbread or fresh whole wheat French bread.
-Leftover chili is great for topping potatoes on a different night!
Here's how you can cook and freeze your own beans, they are more tasty and healthy that way! Recipe
–ROASTS (IN THE CROCKPOT)-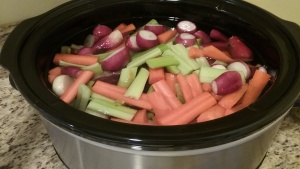 It's hard to beat the convenience of a good roast! I pick out a grassfed beef roast from our freezer that will fit in our crockpot the night before and let it thaw in the fridge. The next morning, I take the roast and put it in with veggies on top (our favorites to use are carrots, celery, and radishes) At this juncture, either add in spices here, or do it later when you make the gravy. Cover the roast and veggies with water, turn it on low and forget about it! 8 to 10 hours later the roast is ready and fall-apart tender.
After it has cooked in the crockpot all day, I often remove the meat and veggies, leave some liquid in the crockpot, and then add some spices and a thickening agent while whisking it to make it a bit more gravy like. I add the roast and veggies back in the crock and let them sit awhile before serving.
-Leftover roast can be shredded with two forks and mixed with BBQ sauce for sandwiches.
-Leftover roast (depends on the cut) can be carefully sliced and used for roast beef sandwiches another night.
-When we have more time in the morning, I will sometime brown the roast first and then put it in the crockpot, but I usually skip that step.
–MEATLOAF-
Meatloaf takes a bit of extra time to make, but it's still a great weeknight meal! There are lots of meatloaf recipes out there, and I'm sure everyone has their own favorite, but one trick I use to keep it moist is not to make the loaf too big, just keep it shorter and spread it out to fill up a 9×13 pan. I put water half way up in the pan while it bakes in the oven. I drain the water carefully a few minutes before it is done and then bake it a bit longer with a sauce on top. We often slice leftover meat loaf for sandwiches.
–HAMBURGERS & STEAK NIGHT-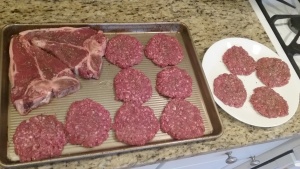 We either grill or pan fry some juicy grassfed burgers, and either grill or oven cook some steaks after browning them in a cast-iron skillet. We don't mess with the meat too much when doing this meal, because we want to taste the flavor of the meat in full! We often just salt and pepper the steaks and hamburgers. We are careful not to overcook our steaks! We love them more medium to medium-rare. The juiciness and flavor are amazing when not overcooked! We rely on our handy digital meat thermometer to check on them.
-BASIC EGG BAKE-
A basic quiche with eggs, cream, ground beef, spices, and any leftover veggies. Mix together the ingredients and put in a greased 9×13 and bake for 20 minutes at 400 degrees. I don't make a crust because this momma doesn't have time for fancy J This particular recipe I play around with a lot, depending on how many eggs I have on hand, or what kind of veggies to throw in. That makes it unique every time I cook it! It makes a great leftover breakfast when heated up the next morning.
–LEFTOVERS-
Because over the past couple of years we are trying to stay away from processed meats, especially any lunch meat with preservatives, we use leftover meat to make sandwiches for my husband's lunches he takes to work. I often cook more meat than what our family can eat in one night so that I'll have these leftovers to pack for him or for our lunch at home the next day.
-A FEW OTHER FAVORITES-
This is my favorite recipe baked spaghetti recipe to make for company or for families who have just had a baby! It freezes well and is portable: Recipe
Here's a great idea that I've used in the past: Freezing already cooked and seasoned taco meat. That saves an additional step and has been so helpful to me! Link to recipe
What are your favorite weeknight meal ideas that use beef and whole foods? I'm always on the lookout for ideas for more meals!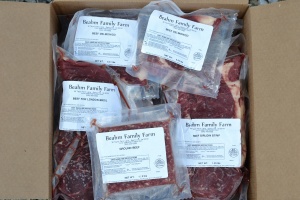 All of the above recipe ideas can be made with all of the cuts of beef you receive when ordering our 30, 60, 90 lb. grassfed beef options. We also offer 1/2 or whole beef option as well for an even better value! Check out our pricing page to see when we are harvesting meat and to order! Pricing