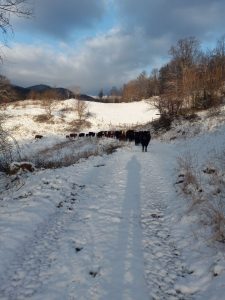 What a winter so far!
Our cattle are enjoying bales of hay during the snowstorms this past month, and we are thankful for our tractor and trucks that help us get through the snow to take care of them!
We have grass to graze, but it was buried under hard ice for parts of January, so we have been feeding hay.
Now that we've had a warmer spell, and the ice finally melted, they are back to grazing happily on the stockpiled fields of grass we have for them.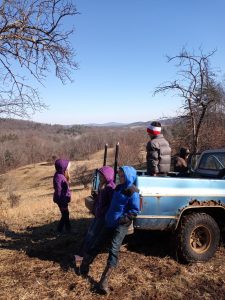 We like to include our children when checking cows, doing farms projects (especially fencing maintenance this time of year!), spending time with them doing something useful, yet fun and interesting. We all get a kick out of watching the cattle, especially the calves when they are playing.
So many people have contacted me already these past few weeks wanting to get on our lists to reserve beef and pork for the year!
If you wish to look ahead and plan your meat needs for the year with us, below is our processing schedule for 2022.
The first half of the year is already filled up, but we still have beef boxes for all the rest of the list or custom cut halves or wholes for each of the months listed as "available".
If you've already contacted me these past few weeks via email to get on our list, no need to write back from here. Your spot is secure!
LIST
Beef
First week of March- Full
End of June-Full
Mid July- Available
First week of September-Available
First week of November-Available
End of December-Available
Pigs–
End of October- Full
Mid November- Available
We are open and taking product reservations for this year, because we do pre-sell most of our meat, and supply typically runs out.
Let us know how we can serve you this year, we are excited that so many people have thought ahead about their meat needs this year and have already contacted us for reserving meat shares.
Not sure what to order from us? We have our assorted boxes of grassfed beef in 30, 60, or 90 lb. options, and we can get you a custom cut half a beef or whole beef.
We also sell 30 lb. boxes of assorted pork cuts in the fall only and custom cut half and whole pigs. Click on any of the descriptions on our product page to see what's included and click "add to cart" to reserve it, and put what month you are interested in getting your share from the list above.
We look forward to getting our meat to your table this year!
Timothy, Julie & Family