Welcome! Here's a little snapshot of who we are and what we do.
We farm in the mountains of Virginia near the Shenandoah National Park. We're the Beahms, Timothy and Julie, and our 5 children. We raise cattle, pigs, goats, and chickens. We homeschool, run two businesses, sell grassfed beef and pork shares to folks all over Virginia, and delight in our work together as a family (at least most days!). There's never a dull moment. We expect the unexpected. And our farm is the testing ground for us in that regard.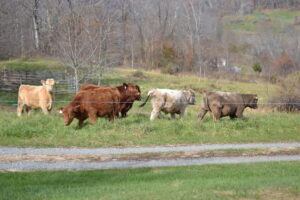 Our curious cattle follow us around and enjoy their lush new pastures each time we rotate them. We raise and finish our cattle with grass only. There's no need for hormones, antibiotics, pesticides, or grain on our farm for our cattle. We strive to raise them as holistically as possible in their natural environment while giving them lush, productive pastures where we do rotational grazing. They are curious and nosy, and always fun to watch.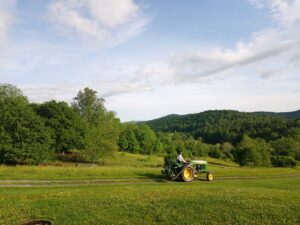 Pasture health is integral to do what we do. That's why Timothy puts hours of effort into maintaining the best land possible to have the best grass needed for our cattle to thrive. Cows are meant to eat grass, and that's what they get all year long!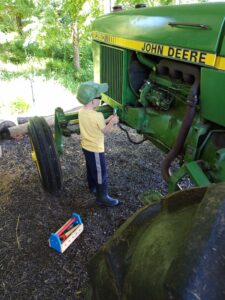 If our tractor needs fixing, we know a great mechanic to call!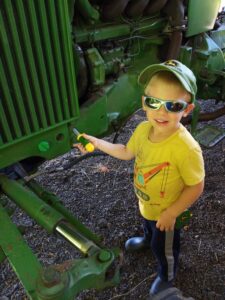 His rates are reasonable, snacks seem to be payment enough!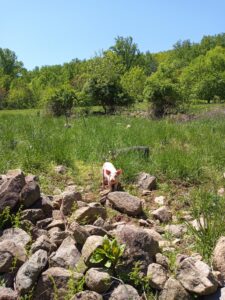 We raise our pigs in the woods and fields and rotate their pastures as well. This pasturing practice helps to maintain growth and optimal health for both the pigs and the land. They eat a natural diet of anything they can find in the pastures – walnuts, roots, bugs, weeds, even grass!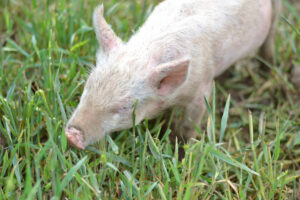 When it's time to rotate them to new pastures, I am always amazed they go straight for the new grass to eat first!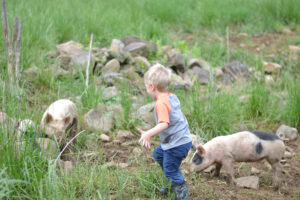 We feed non-GMO grain to the pigs to help their growth, as they are omnivores, and that is one of the chores that the children can help with. Our youngest though, just tends to want to "play" with them at this point. "Chasing them" is probably a bit more accurate!
Along with raising our main two herds of animals, we raise and process meat chickens and have a flock of layer chickens.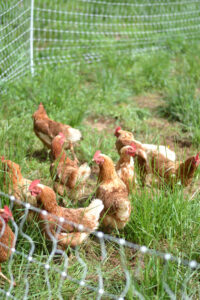 All of the animals on our farm give us opportunities to teach our children animal husbandry and the importance of taking good care of them. Providing a supply of meat for not only our family, but families all over Virginia.
But some of the animals we have are more like pets. And our goats have brought us a lot of joy this year. Even though we've raised goats for several years now, it never gets old!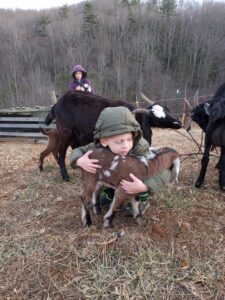 We had seven kids (baby goats) born in January, and they are all healthy and well and snuggly still. We are beginning to milk our mama goats, and that is always a fun adventure and very satisfying to have our own milk for our family right off the farm.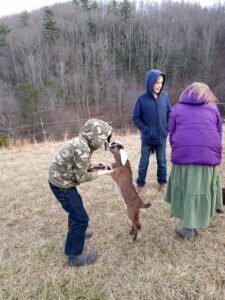 We're thankful to live in these mountains, work this land, and raise the herds of animals we have. Our children are living retro lives, building forts, reading, hiking, gardening, learning new skills with us. We're blessed to watch them grow up this way.
Our youngest may be the prototype farmer, with his boots and work gloves and straw hanging out of his mouth. He talks of tractors and equipment with his daddy pretty much every day.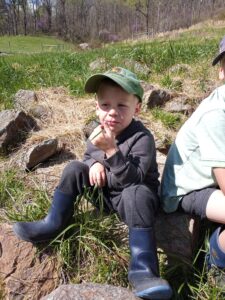 The garden was productive last year and we got some canning done!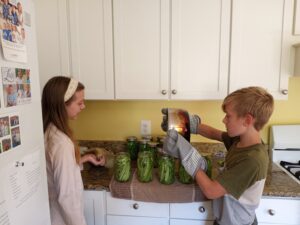 I love to see when my children head outside to keep up with the garden.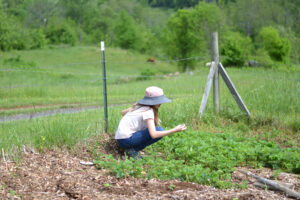 We're learning handicrafts and music inside the house along with their other school subjects to round out their education as well.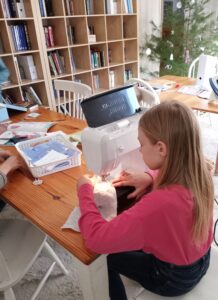 The boys split a lot of firewood this year, and as a family we stacked a lot too. I'm thankful for it on the cold winter mornings we had!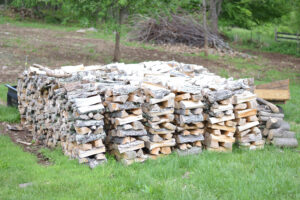 Inside our home, we lead a quiet life of daily rhythms involving our homeschooling, music, and family reading time, and of course, outside choring and animal care. Outside, we've had to adapt ourselves to the rhythms of nature, doing crucial projects that are necessary but not urgent (like building fence, assessing land, clearing brush, clearing fencerows). Making hay and preparing for winter is also a huge part of what we do.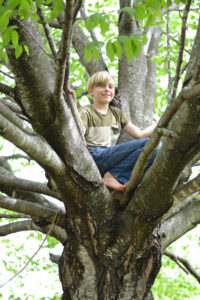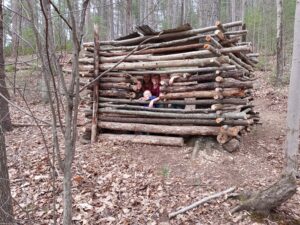 This "retro" life is hard, and has it's many moments of frustration and stress, but it's also life-giving and challenging.
All that to say, many of you are doing your own share of farming, homesteading, or raising animals. You're either doing that or supporting us from afar and cheering us on!
Whatever camp you fall in, and however you may have interacted with us in the past- by either buying meat from us or visiting our farm, you've been a part of our journey. When we started to sell our grassfed beef and pork to customers seven years ago, we had no idea of what value lay in store for us. Not just monetarily, so that we could maintain our farm, and sell the excess of what we produce, but the value in the relationships we've wrought and maintained.
We're still in awe that so many of you come back to us time and again, and work with us. We feel invested in your families. Our goal is to bring quality meat to your table from our farm. Many of you have been faithful to us and encouraged us in our farming journey for years now. We're excited that our meat will grace the tables of so many families in Virginia this year (and surrounding states too!). It's a sobering thought, and one we take very seriously.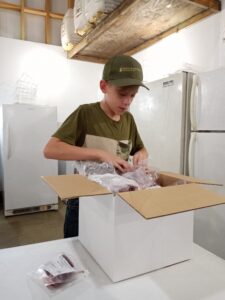 Many of our customers have made a commitment to their own health by buying pastured meats from us. Our customers are people who care about their food. They're concerned about the way most meat is produced and they want to encourage a change. They do that by coming directly to us, their local farmer, and this symbiotic relationship we have together is the beginning of a change for all of us.
This is a relationship we didn't quite expect, and one that single handedly keeps up going when the days are rough and long.
We love to work directly with our customers. Getting food from a local farm to your table shouldn't be that hard, and we strive to do the best we can to make that happen smoothly and in a timely fashion.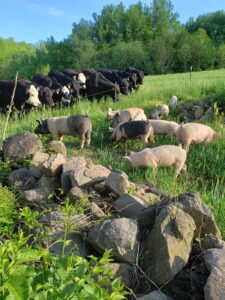 "He causes the grass to grow for the cattle,
And vegetation for the service of man,
That he may bring forth food from the earth…" Psalm 104:14
Thanks to so many of you already contacting us early in the year, we are not taking any new orders for pork at this time. We only butcher in the fall, and all those shares are reserved. You can write me to get on our waiting list though.
We do have beef shares available starting in July 2023, and through the rest of the year.
If you'd like to look at what shares we offer, descriptions of the cuts, and prices, just click here to find out. It will take you right to our product page.
Have you ever bought directly from a farm before? Are you homesteading or gardening? Let me know what questions you may have for us!
Gratefully,
Julie Beahm