Pastured Pork BBQ- So easy, simple, and delicious!
This type of meal spells SUMMER to me!
Our pastured pork roasts are some of my favorite cuts of meat to cook in the summer.
We've been hosting some friends lately at our house and our pastured pork BBQ has been my go-to meal.
I like cooking our Boston Butt roasts in the crockpot the day before company comes, shred it up in the evening, and re-heat it on low in the crockpot while we are at church to have ready for Sunday lunch with friends.
Serve this meat with buns, homemade easy BBQ sauce, and some fruit and veggies for the perfect warm weather meal.
I have two ways I like to cook this cut of meat- one is super lazy, and the other is still pretty simple, but involves a few more steps for when I have more time in my day to cook.
Here's how to make Lazy Day BBQ
Take out one of our pastured Boston Butt roasts and thaw it. This roast is included in our small or medium pork boxes or our half/ whole custom cut pig shares.
Place thawed roast in greased crockpot and pour store bought BBQ sauce over the roast.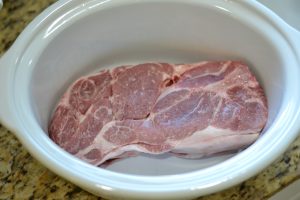 3.Cook on low 8-10 hours or until it is fall apart tender.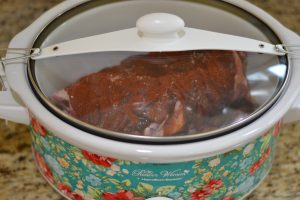 4. Remove the meat and shred with two forks, discard any fat chunks.
5. Strain the sauce if necessary, add the meat back in the crockpot and mix.
Eat right away with buns or on a salad. You can refrigerate the dish of meat and reheat the shredded pork in the juices for a later meal as well.
Lazy, like I said 😉
My Best BBQ ! (A few more steps, but still not too time-consuming)
Thaw one of our pastured Boston butt roasts (or two if having a party!)
Rub roasts with generous amount of salt, pepper, and paprika.
Place roast or roasts in greased crockpot (s).
Cover and cook on low all day until it is fall apart tender. No need to add liquid to the crockpot, but if it makes you feel better, add 1/2 cup water or broth to the pot when you start it. The roasts will make quite a bit of juice on their own.
Make a homemade BBQ sauce for when the roasts are done.
Here's my no-cook version of an easy BBQ sauce:
Mix together:
1 1/2 cups of ketchup
1/2 cup of water
A generous drizzle of molasses (1/4 to 1/2 cup)
1/4 cup apple cider vinegar
2 to 3 TBS hot sauce (if you like it spicy)
1 TBS Worcestershire sauce
2-3 tsp. prepared mustard (I like Dijon)
Ground black pepper to taste
Optional: 1 tsp or less of onion powder and garlic salt.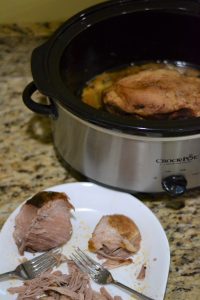 6. Take the meat out ( I have handy "bear claw" grabbers for meat) and put on a plate to shred.
7. Discard any fat chunks, take two forks and shred away!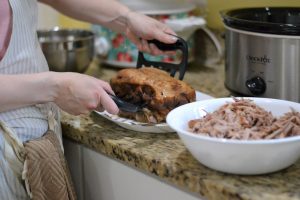 Not saying you will, but if you get tired and have any pre-teens about the house, let them shred for a bit 😊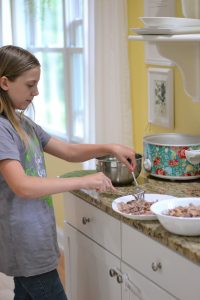 8. Next, strain any juices from the crock pot and add to your meat (for re-heating it later)
9. And you are ready to serve with your homemade BBQ sauce on buns or a salad!
The only way to get some of our delicious pastured pork roasts is by pre-ordering a half or whole custom cut pig share
OR
Reserving one of our 30 or 60 lb. box options which will include several cuts of pork, including some Boston butt roasts.
Read the descriptions in the links above to know more about what we offer!
Fill out the order form to reserve your pork share. They will be ready for pickup in October and November.
We only sell our pork in the fall, so now is the time to reserve the share you want. The link to all our products.
Happy Cooking!
Julie