It's easy to cook our farm's delectable uncured bacon. Here's how.
The "bacon" we sell from our farm is actually fresh, uncured belly slices. It looks like store bought bacon, but has a more natural color and has not been smoked or preserved in any nitrate or nitrite solutions.
The cooking methods are the same for uncured belly slices as for store bought bacon, except that we season the belly slices ourselves with salt, pepper, and other spices before we fry it in a pan or bake it in the oven.
It's the best I've ever tasted. The flavor of the fat in our bacon is delicious and is free of the stored toxins that conventionally raised pork fat has. No pangs of guilt from too much salt or preservatives either!
Here's exactly what our fresh uncured bacon looks like, and how to cook it easily. Oven cooking bacon is truly so simple. I've done it this way forever, and its always less mess.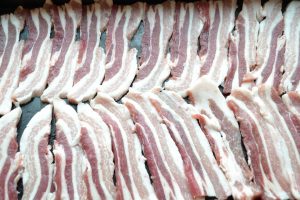 Step 1. Lay out uncured bacon slices on a baking sheet (Covered with foil or parchment paper for an easy cleanup).
Step 2. Season generously with salt and pepper. Add any other spices you might like. We like to also use paprika on ours 😊
Step 3. Bake in the oven at 425 degrees until crisp enough to your taste. Alternatively, season the slices and cook in a frying pan on the stove.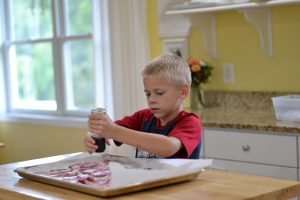 We like to cook a pound or more at a time for our family of seven so we have plenty for the whole family, and using large baking sheets helps to easily cook for a crowd.
We have three ways to get our tasty uncured bacon for a November pickup time this year! Our uncured bacon is not sold individually like a retail product, but within our wholesale options below:
Order a custom cut half a pig or whole pig for your family and have pork on hand for a year.
Pre-order a 30 lb. box of assorted pork cuts (Includes the works! Pork chops, roasts, uncured bacon, breakfast sausage, ground pork, ribs or tenderloin, ham hock).
Pre-order our new product of a 30 lb. box of sausage and bacon only.
Go to the product links above to pre-order any of the pork options.
Happy eating!
Julie